Uncover Entire Niches Like Never Before,
Become an Authority, Expert & Competitor...
... In Just Two Simple Steps
RANK Like a Pro & Become the Competition to Beat
See what Others are Saying
If you thought you had the best Keyword tool in your tool chest - then think again! NichePedia will give you Real Results, with usefull in-depth information about the topic you are researching.
If you want to become an Authority in your Niche when writting content, then this is the tool which will give you that information.
NichePedia is totally different than any other keyword tool I have ever used and it's enabled me to discover some previously hidden keywords that are now bringing in Results for my clients.

Geoff Lord
Webmaster and Internet Marketing Manager,
UK, habazar.com
Increasing Your Chances for a TOP 10 Google
Ranking is Easier Then You Think.
Introducing NichePedia: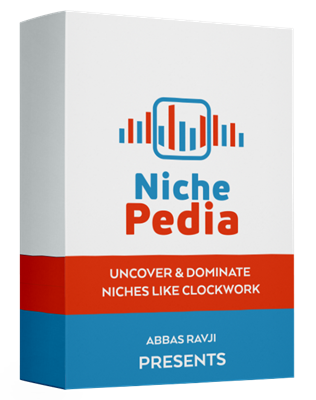 Become an Authority & RANK in Google
Google wants to show Authority content that covers and fulfils a searchers need. It's not about how many times you use a given keyword in your content. Those days are over and could get you penalized.
Google is much more intelligent...
They understand the Relationship between words, terms and a given meaning.
When wanting to Rank content for your Targeted Keyword, it's important to Optimize for your Keyword Theme and not just the keyword itself.
NichePedia Reveals the Keyword Theme for ANY Keyword in ANY Niche
If you want to RANK in Google then you need to use terms given by NichePedia


By reading these terms it should be clear that they are associated with one another, and you would expect Any informative article written about Acne to actually include such terms.
So if you wanted to target the keyword Acne, you would need to be sure to include many of these words.
Creating Content Optimized For Your
Keyword Theme is Vital
"Gone are the days when you could rank for a particular term
by stuffing keywords into your webpage"
Let us give you another example...


And here's another...


And one more to look at...


Note: All examples were taken Using NichePedia

Are you starting to see the bigger picture?
To RANK on Page 1 You Need To Use Keywords That Google Associates With Your Main Keyword
We've all heard the saying content is King. But not just any content, it needs to be optimized around your keyword theme.
See What Others are Saying About Nichepedia

When first seeing NichePedia in action, I knew I needed to get my hands on it to play a while.
This tool brings an entire new dimension to niche keyword research, and it helps broaden out your understanding of a topic. By including descriptions in your search results, you get more than enough information on any topic and plenty of ideas that you never even thought before.
I've been using NichePedia to help build out a couple of niche sites, and I must say that it has made the job easier, faster, and so very much more enjoyable.
The tool is revolutionary, rapid, and inspirational. It is a must have for all content creators and brings so much more to the table.

Tony Grant
England, UK

My three favorite keyword tools are google adwords, keyword planner, and now NichePedia which a new take on keyword tools that makes you an expert in the niche.
With Google getting smarter and smarter, this tool allows you to use related keywords that will bump up your ranking because Google will get it.
Totally awesome tool and I will be using this on every article I write from now on.

Siegfried Emme
LA, USA

I've been studying law for seven years now and law terms are very ambiguous, so I thought that would be a great test for Niche Pedia.
A word we all use every day but few know the legal implications of is person. You are a person. But did you also know a corporation (like McDonalds) is also a person, in legal terms?
Nichepedia knew! I was amazed that in the definitions not only did the software pick up human, consciousness, and corporation (and many others) as relating to person but it also came back with "prosopon" which I'd never heard of.
Apparently it's a technical term encountered in Christian theology. It is most often translated as person, and as such is sometimes confused with hypostasis, which is sometimes also translated as person. Prosopon originally meant face or mask and derives from Greek theatre.
Wow, this software can help you understand the language and become knowledgeable in a niche you know nothing about. If you understand the importance of knowing the buzz words and terms in a niche then you'll get how much Nichepedia will help you.
I'm super impressed with Nichepedia.

Darron Hodgkinson
London, UK

Get Free Targeted Traffic for your Keywords
NichePedia will give you a New & Unique Advantage to RANK inside of Google.
It's unlike any other tool on the market, It will provide all the terms Google associates with your main keyword.
Use the terms provided by NichePedia to RANK even Higher in Google.

So How Much Will It Cost You To Tap Into
The Power of NichePedia?
Before we go into discussing the ultra-low pricing, let's first talk about what it costs today to generate SEO/organic traffic, comprised of targeted buyers.
Consider this... If you were to purchase individual software or apps to accomplish everything NichePedia does, it would break down like this...
Extensive keyword & Niche research software
$97 and up!
Multi Threaded & Full proxy Support
$97 and up!
Software that works with 86 languages
$97 and up!
Software to perform Direct & complete analysis for ANY keyword
$97 and up!
Software that Categorises and puts Niche Keywords into perspective
$97 and up!
Software to perform everything else that NichePedia does
$97 and up!
Conservatively speaking, you could easily spend $500 or more to get all the functionality and capabilities that you get with NichePedia.
---
Tap into the Power of NichePedia for just a Tiny Fraction of that Cost

Take advantage of our limited time launch pricing and get
NichePedia for an insanely low one-time price!
Note: This pricing is only available to a limited number of users! Once we fill our quotas
at this pricing, it will increase!


FAQ's
What do I need to run the software?
This will run on any Windows machine and requires .net 4.0 full version (free). If you would like to run this on a Mac then you will require Parallels or something equivalent.

Is there any Training?
Certainly, you will be given tutorials showing you how to work with each feature.

How Many computers can I install NichePedia on ?
The Expert version, which is the version on this page, can be installed on 1 computer. More licenses are available after purchase as an upgrade.
Are Updates Included?
Standard updates are included free of charge for the first year

Is NichePedia just another Keyword Research Tool?
NO. NichePedia is not just another Keyword Research tool. Nothing like it on the market exists. Unlike other keyword research tools that are designed to help you find potential keywords to Rank for. NichePedia will help you find and uncover the keywords required to rank for your chosen keyword. It opens up entire Niches so to reveal all the important keywords that should be included in your content. These are terms that Google expects to be included in ANY authority article. By using NichePedia you will become the Authority and Expert in your Niche.

Does NichePedia work for Any Language & All keywords?
NichePedia works with upto 86 languages and best results are achieved using seed keywords. So instead of searching for a term such as "Red Running Shoes" you would instead search for a term such as "Running Shoes"

How do I get support?
Getting support is easy, simply email our support staff and they will try to get back to you as soon as they can

What is the Refund Policy?
We offer a full 30 days no quibble money back guarantee.
I have more Questions, where can I send them?
You can reach us at support@nichepedia.net

I still have some questions. Where can I send them to?
You can reach us at support@NichePedia.net